There are a few celebrities here at the PlanetSide 2 Ultimate Empire Showdown! We've got the awesome Jace Hall here as well as the super amazing Adrianne Curry! And let's not forget PlanetSide 2's own Matt Higby and many others.
Keep up with the fun by checking out the Facebook album for more pictures from the event!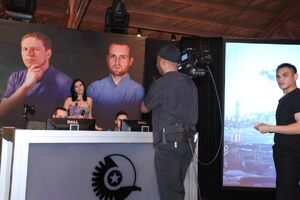 Ad blocker interference detected!
Wikia is a free-to-use site that makes money from advertising. We have a modified experience for viewers using ad blockers

Wikia is not accessible if you've made further modifications. Remove the custom ad blocker rule(s) and the page will load as expected.