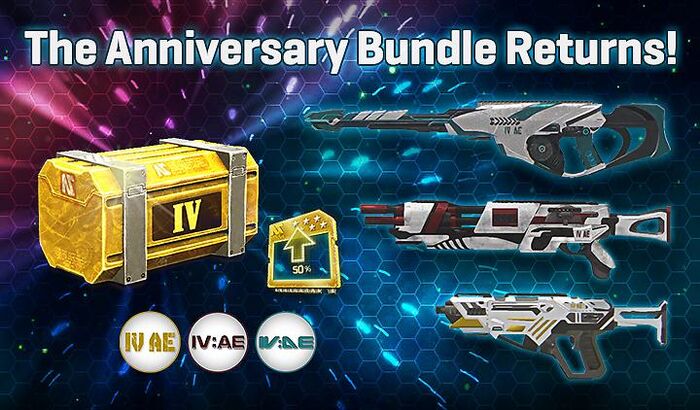 Well, Auraxians. You've been fighting a brave fight for four years now. We're impressed by your dedication to your empire, your fortitude on the battle field, and your willingness to always answer the call of duty.
To celebrate this auspicious occasion, Fourth Anniversary Bundles have arrived in the Depot and we've turned on double experience between now and November 27th!
The bundles cost 3,999 Daybreak Cash (PC) or 3,999 Battle Cash (PS4). The bundles include:
Four Weapons (a sniper, SMG, assault rifle, and archer) per Empire
Fourth Anniversary Camo for each Empire
Fourth Anniversary Armor Decal for each Empire
Fourth Anniversary Vehicle Decal for each Empire
6-Month Heroic Boost

The 6-Month Heroic Boost in this bundle can only be used on the character who purchased the bundle. The other items are account-wide.
Join us on Twitter as we celebrate the 4th Anniversary of PlanetSide 2. Use hashtags #PS2 and #4thAnniversary to join the conversation.
Ad blocker interference detected!
Wikia is a free-to-use site that makes money from advertising. We have a modified experience for viewers using ad blockers

Wikia is not accessible if you've made further modifications. Remove the custom ad blocker rule(s) and the page will load as expected.