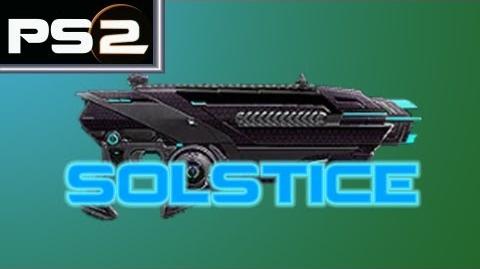 The Solstice SF is a variant of the 
Solstice
, the default
carbine
for the
Vanu Sovereignty
. To see the stats for the Default Solstice, go to the
Solstice
page.
Solstice SF
Max/Min DMG
Unknown
Reload Times
1.75 seconds for short/2.31 seconds for long
Magazine Size
30
Ammo Pool
150
ADS Move Mult
Unknown
Rate of Fire
652 rounds per minute RPM
Velocity
515 meters per second
Cert Cost
500
SC Cost
700
Background
The Solstice SF provides more versatility over the Solstice since it also has the burst-firing mode of the Solstice Burst and has many more attachments. As a trade-off to its versatilty, it will be outmatched by situational weapons. For example, the Solstice will be outmatched by Shotguns in close range, Assault Rifles and Light Machine Guns in medium range, and Sniper Rifles at long range. Your best chance for survival is to be agile and try to bait or flank an enemy out of their situational advantage. To learn more about the Solstice SF, watch the video located above.