Soft Point Ammunition

Soft Point Ammunition increases the weapon's maximum damage range by 5 meters, but reduces its projectile velocity by 5%.
Empire:
Cert Cost:
100
SC Cost:
75
The Soft Point Ammunition (SPA) is certification for ammo slot, that extends maximum damage drop off range by 5-6m, by reducing bullet velocity.
-5% bullet velocity on all weapons[1]
Explanation
Edit
This diagram just shows what SPA (and HVA) does.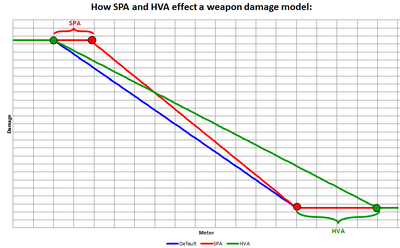 The diagram doesn't show any specific number since it's variable for each weapon. As you can see:
SPA increases the range where the weapon does the maximum damage, but the weapon does the minimum damage at the same range as without it.
HVA doesn't increase the weapon's maximum damage range, but increases the range where the weapon does the minimum damage.
Recommendations as an Attachment
Edit
Soft Point ammo is normally a "must have" attachment, because of the few down sides.
Although it will reduce the range of the weapon's effectiveness at range if it loses 2 tiers of damage- most weapons that equip it are already made with close quarters combat in mind.
The muzzle velocity is normally negligible, unless you are using a suppressor.
The weapon's effectiveness is only increased by 5 meters, or around 15 feet. It can mean the difference between the enemy get away- or getting that kill just as he enters the doorway.
See Also
Edit
References
Edit
Ad blocker interference detected!
Wikia is a free-to-use site that makes money from advertising. We have a modified experience for viewers using ad blockers

Wikia is not accessible if you've made further modifications. Remove the custom ad blocker rule(s) and the page will load as expected.