Welcome to the PlanetSide 2 official wiki community!
Welcome to the official SOE PlanetSide 2 Wiki Community.
PlanetSide 2 is a massively multiplayer online first person shooter where players align with one of three unique empires. Join thousands of simultaneous players in intense infantry, air, and ground vehicle gameplay. This wiki is dedicated to providing the community with tools to discuss the ever evolving universe of PlanetSide.
Create blog post
Hey everyone,

Well, it's hard to believe, but the launch of PlanetSide 2 on the Playstation 4 is finally upon us! Since we're going to have a fairly diverse mix of existing beta players, as well as new players, I wanted to post some details on what t…

Read more >

The PlanetSide 2 Closed Beta for PS4 is starting this month — January 20th, to be exact! The development team has been hard at work refining, optimizing, and creating an amazing console version of PlanetSide 2 on PS4, and we can't wait to get it int…

Read more >


Nanite Systems needs YOU!

As we all know (due to the stellar teachings of our patent-pending POD educational system, used in schools all across the Auraxis colonies!), the Space Pumpkin is an amazing fruit, genetically modified by talented grad stude…

Read more >

Grab your AA weaponry because this week's update is sure to fill the skies with both aspiring pilots and grizzled veterans using all new weaponry on the Liberator  

First up is the L24R Spur which allows the pilot to adjust the aim (versus having it …

Read more >
See more >
Featured Video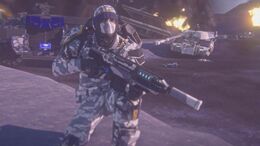 See all videos >
Poll
Which Empire will you swear allegiance to?