New conglomorate Treaty Organisation (NCTO)

An NC allliance on the Miller server.

Empire:

Server

Website: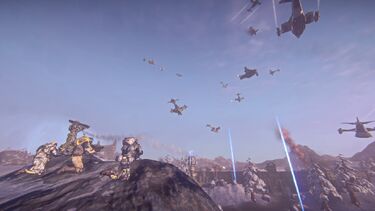 The New Conglomorate Treaty Organisation (NCTO ) is the largest alliance of NC outfits on the EU-Miller server.
The NCTO was founded in January 2013 to bring together the NC outfits on the Miller server, to encourage inter-outfit coordination, and to promote simple and efficient communications between organised forces.
Its members coordinate via 3rd party VOIP software for largescale organised operations and on-the-fly cooporation, and work with the in-game VOIP to coordinate with non-NCTO forces on the focused continent.
With a common manpower of  well-over 500 active players in the 19 member outfits, the NCTO alliance employs a  force commander for each operation to plan, organise and execute largescale operations. These operations are either weekly or fortnightly. There are no attendance requirements, but it is desired that member outfits attend where possible.
Current Member Outfits of NCTO
Edit
JNJ
CONZ
GAR
SW
252
RUSL
LSD
WASP
DL
FC
iX
TD42
RTRS
FUSH
ABTF
CAD
RAGE
MERC
XSG

02:16

PlanetSide 2 - Miller - NCTO Assaults the Crown
Ad blocker interference detected!
Wikia is a free-to-use site that makes money from advertising. We have a modified experience for viewers using ad blockers

Wikia is not accessible if you've made further modifications. Remove the custom ad blocker rule(s) and the page will load as expected.