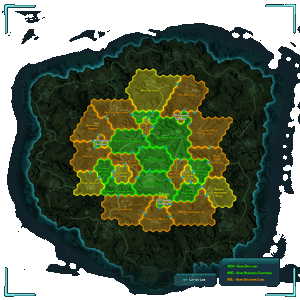 Hossin is the fourth continent on Auraxis. Hossin is a swamp covered continent with obstacles for ground vehicles and a thick canopy for air vehicles, making both difficult. Hossin unique among the continents, the other three of which have large plains and open skies.
Hossin emphasizes infantry combat by having lower fog distance, large trees, tall vegetation, elevated bases, and a thick canopy. While roads are available to be driven on, the low fog distance is not an ideal driving condition. The fog combined with roads being flooded makes maneuvering a ground vehicle difficult, at times downright disorienting. Air combat is available, however, due to the canopy, effective air-to-ground combat is difficult while trying to avoid being taken down, as trees litter the landscape, and the canopy is low enough for easy spotting of an aircraft.
Originally planned for launch in April of 2013, Hossin was pushed to June 26 2014. These delays occurred because of the release of the Lattice Link system on all continents as well as the optimization pass on the entire game. On June 19, 2014, it was announced at Command Center that Hossin will officially be released on live servers on June 26, 2014. Hossin is currently unfinished, marked as such with the "Caution: Early Expedition" notice while loading into the continent.
Basic StrategyEdit
Infantry:Edit
Use the vegetation to your advantage. The bases of the trees make good cover. Light Assaults can use the trees to move around  in the upmost branches, allowing for interesting flanking routes. Avoid water, as explosives in the water can not be seen.
Ground Vehicles:Edit
Avoid open areas, water. Take care when moving along roads, especially flooded roads. Use vegetation to the best of your ability for cover. Try not to give away your position away as Heavy Assaults and MAX Units can flank you easily.
Air Vehicles:Edit
Avoid prologned time under canopy; strike quick, leave quicker. Air-to-air combat very likely, be prepared for enemy fighters, Liberators, Galaxies to ambush your craft when emerging from below the canopy.
List of Hossin FacilitiesEdit
Small OutpostsEdit
Large OutpostsEdit
Amp StationsEdit
Tech PlantsEdit
WarpgatesEdit
Concept Art
Edit