Vex Overview
Edit
The "Vex" is a community designed (un-official) aerial vehicle designed to carry a small amount of infantry. It is more agile than the Galaxy, but is lightly armored and armed. Armaments are primarily anti-personnel weapons to support inserted troops. Please feel free to join the discussion on the Planetside 2 forums here.
Size
Height: Chassis: Appx. 4.5 Meters Tail: Appx. 5.5 Meters
Wingspan: Appx. 16.5 Meters
Length: Appx 15.5 Meters
Speed
Default Top Speed with only [W]:  201 KMPH
Default Top Speed with [W] + [Space]: TBD
Default Top Speed with Afterburner: TBD
Hit Points

Default HP: 4000
Utility Slot
Scout Radar
Fire Suppression
Decoy Flares
Nanite Inertial Dampeners (A passive utility that prevents forward-momentum damage to troops when deploying. Vertical fall damage still applies.)
Defense Slot
Nanite Auto-Repair
Guardian Composite Armor (Reduces damage taken on the gunner side.)
Vehicle Stealth
Performance Slot
Racer High Speed Airframe
Hover Stability Airframe
High-G Airframe
Weapons
M20 Basilisk (Default)
M12 Kobalt
M40 Fury
​
​Weapon Optics:
Zoom
Infrared Optics
Thermal Optics
​
​Weapon Ammunition
​
​Weapon Utility
​
​Weapon Attachment
Original Concept and Current NS Design- Styrkr (TearlessWyvern)
Wikia Page Creator and Curator
Notable Contributors:
Styrkr (TearlessWyvern)
Lucidius134
Sorrowfulwinds
Kayth
CaptinDread
Thanks to everyone else who participated in the development of the Vex via the forum thread!
(Don't be offended if you're left off the list, there were a lot of contributors and everyone's input helped!)
Size Comparison
Edit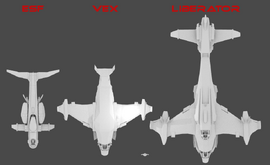 Ad blocker interference detected!
Wikia is a free-to-use site that makes money from advertising. We have a modified experience for viewers using ad blockers

Wikia is not accessible if you've made further modifications. Remove the custom ad blocker rule(s) and the page will load as expected.