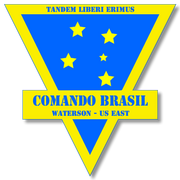 O Comando Brasil está a procura de jogadores brasileiros e/ou falantes de língua portuguesa interessante em participar de combates organizados entre os participantes, sejam entre apenas 1 esquadrão ou mais de um pelotão, dependendo da quantidade de pessoas disponíveis para o jogo. O grande diferencial nosso é de fato a língua, o que facilita uma comunicação mais fácil, ágil e precisa entre os jogadores.
Buscamos jogadores com qualquer tipo de perfil. Prefere infantaria? Aceitamos. Blindados? Está dentro. Aéreo? Perfeito. Não buscamos gente experiente, tão pouco top players, mas buscamos gente que esteja disposta à aprender e a jogar ordenadamente. Não exigimos classe, tentamos trabalhar com o que temos e o que os jogadores preferem.
Exigências
Edit
- Jogadores dedicados e que queiram jogar em equipe
- Teamspeak indispensável para comunicação. Microfone preferível.
- Vontade de aprender e saber obedecer à comandos dos lideres quando necessário
- Sem idade mínima, valendo mais do julgamento dos líderes do que uma idade mínima

Como o jogo é bastante novo, não existe ainda um end-game por si dizer, então muito do começo será dedicado à jogarmos como uma unidade, sabendo as fortitudes e fraqueza de cada jogador.
Entrar em contato com Dkamanus (Comandante) dentro do servidor Waterson (East US) de New Conglomerate. Os servidores east são os melhores para se jogar em matéria de lag, sendo bem pouco para os brasileiros, e dentro do outfit já estamos com um pequeno grupo de brasileiros que irão participar, portanto não será algo do zero.
Contamos com pessoas com experiência dentro do jogo, algumas participando de quase todo o período de closed beta, logo haverá gente disposta para a respostas das dúvidas que irão surgindo com o tempo.
"Tandem Liberi Erimus" - New Conglomerate
Dkamanus - Comandante
Comando Brasil
Ad blocker interference detected!
Wikia is a free-to-use site that makes money from advertising. We have a modified experience for viewers using ad blockers

Wikia is not accessible if you've made further modifications. Remove the custom ad blocker rule(s) and the page will load as expected.