Removed Content


This content is no longer present within PlanetSide 2!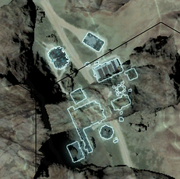 Blackshard Platinum Mine was an Outpost on Indar. It was positioned north of The Stronghold and south of Zurvan Amp Station, providing a route for attackers to reach the amp station via Mesa Comm. Station.
Screenshots
Edit
Ad blocker interference detected!
Wikia is a free-to-use site that makes money from advertising. We have a modified experience for viewers using ad blockers

Wikia is not accessible if you've made further modifications. Remove the custom ad blocker rule(s) and the page will load as expected.