Welcome to the PlanetSide 2 official wiki community!
Welcome to the official SOE PlanetSide 2 Wiki Community.
PlanetSide 2 is a massively multiplayer online first person shooter where players align with one of three unique empires. Join thousands of simultaneous players in intense infantry, air, and ground vehicle gameplay. This wiki is dedicated to providing the community with tools to discuss the ever evolving universe of PlanetSide.
Create blog post
In the middle of a war, the last thing you need is another enemy. But, this holiday season, that's exactly what's upon you. Of course, these enemies are a bit…icier…than ones you may have encountered before. On Essamir, there are Snowmen on the batt…

Read more >
See more >
Featured Video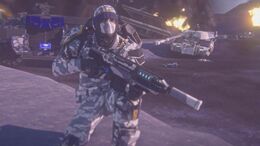 See all videos >
Poll
Which Empire will you swear allegiance to?